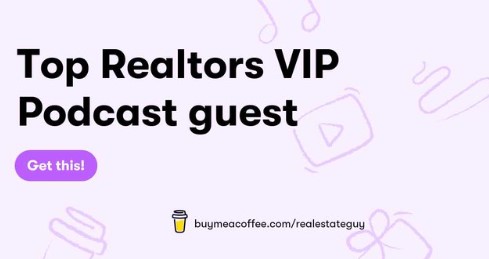 Finally, the new gold standard in real estate podcast series has arrived! Its 100% virtual and 1000% about YOU. 
Gone are the days of listening to someone who has sold less homes than you telling you how to succeed. That isnt how its done.
Tune in and listen to those who are at the top of their game in their communities across Canada, USA and the world. 
As a service to all the amazing realtors across the globe I have worked with, you are always an invited guest here. Just message me and lets do our show! 

For those I havent worked with, click on the box above to apply to be my next podcast guest and join me on the stage for a talk about YOU and what you do in your community. 

If you like the show or are joining me as a guest soon, help me keep it growing and buy me a coffee or click on the link at the bottom right. 
$99 to join me on the show if not a past referral partner yet. No contracts. Just month to month. 
Prices subject to change without notice.
 
---

Here are some of the amazing guests that have joined me on the podcast stage in the past. Join me for the 2021 Podcast Lineup...
 
---

Top Agents and Agent Family members Across Canada Podcast Series


 
---
Top Realtors & Realtor family members in United States & worldwide Podcast Series


California, USA
.
View More Listings
Click the property below to view the virtual tour of each listing.
Schedule a Tour
Choose your date. It's free cancel anytime.