Schedule a Tour
Choose your date. It's free cancel anytime.
Local Real Estate Sales at Highest Level for August in Five Years with Double-digit Increase in Closed and Price
• Amid COVID-19 pandemic, year-over-year sales were up significantly for single-family and townhouse/condominium properties versus August 2019.
FORT MYERS, Fla. – Lee County's housing market saw a significant increase in closings in the single-family category in August compared to the same period a year ago. Typically, sales are slower during the summer months in the Southwest Florida market. Closings in the single-family category were up in August 2020 (1,401) compared August 2019 (1,203). This is the highest number of closed sales for August in more than five years. Year-over-year, sales were up by 16.5% for single-family and by 28% for townhouses and condominiums, according to figures just released by Florida Realtors®, an umbrella organization for Realtor® groups throughout the state.
August showed a median sale price increase of 16.5% for single-family and 13.9% in the townhouse/condominium category. Median price in the single-family category shows a steady and consistent rise in pricing, indicating stability in the pricing segments. Inventory is significantly down for both. Year-over-year, local inventory of single-family dwellings is down again this month at 37.1% as shown in active listings on the Multiple Listing Service. A 2.8-month supply of inventory shows we are in a sellers' market as more listings are seeing multiple offers.
In the townhouse/condominium category, listings were down 9.4% versus August 2019. That translates to a 4.5-month supply and shows the condo market moving into a sellers' market.
Time spent on the market in August was 51 days for single-family homes and 68 days for townhouses and condominiums. August 2019 showed 82 days for single-family and 88 days for townhouses and condominiums.
Broken down by city, all had an increase over last year. Fort Myers Beach showed an increase of 180% over it last year. Sanibel/Captiva showed a 161% increase over the same period last year.
When looking at closed sales by price point, all single-family homes under $100,000 showed a decrease, while price points above $250,000 showed an increase compared to August 2019. The $600,000 and higher category showed a triple-digit increase over last year. Townhouses and condominiums showed a 140% increase in the $200,000 - $299,999 price range.
SOURCE: Royal Palm Coast Realtor Association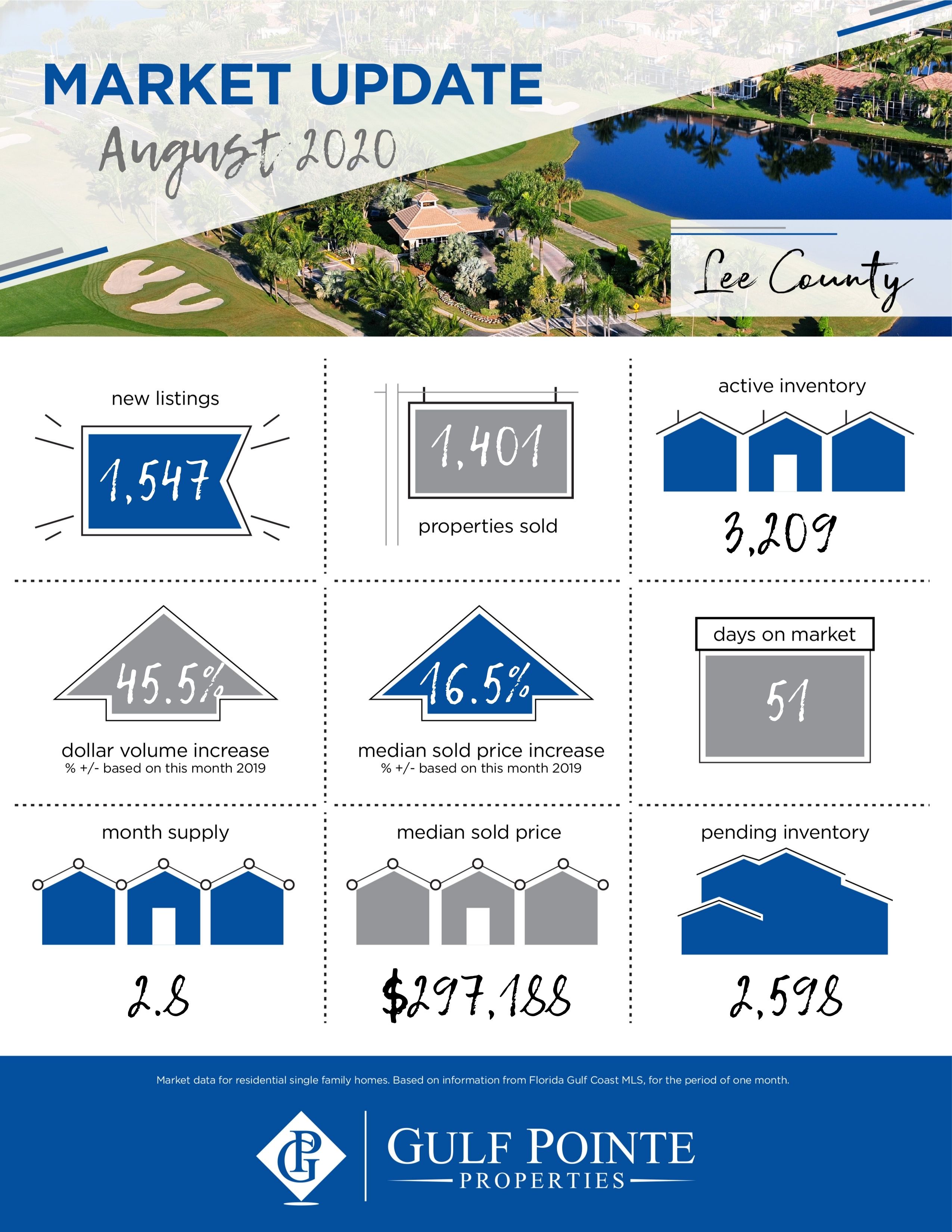 Summer Housing Market Momentum Expected to Continue into Fall
Naples, Fla. (September 18, 2020) – Closed sales activity in the Naples area housing market maintained steady momentum through August with a 35.2 percent increase in overall closed sales to 1,098 closed sales from 812 in August 2019. According to the August 2020 Market Report released by the Naples Area Board of REALTORS® (NABOR®), which tracks home listings and sales within Collier County (excluding Marco Island), homebuying activity in Naples during the last three months exceeded activity reported in the first three months of 2020, more typically known as our peak resident season. Broker analysts reviewing the report predict this momentum, driven from more closed sales, more new pending sales, and more new listings compared to a year ago, will set the Naples area housing market up for continued positive performance into the fall months.
The market report showed August had the highest month-over-month increase in pending sales compared to any other month reported in 2020, with a 70.4 percent increase to 1,479 pending sales from 868 pending sales in August 2019. Not surprising, homebuyers seeking single-family homes continued to tilt the scales in August as the report showed a 76.4 percent increase for this home category, while pending sales of condominiums increased 63.9 percent.
In comparison, this summer's closed sales have eclipsed our peak season's closed sales as there were a combined 3,133 closed sales reported during June, July and August compared to a combined 2,659 closed sales reported in January, February and March. August's inventory decreased 29.1 percent to 4,174 properties from 5,887 properties in August 2019. However, despite the month-over-month drop in inventory during August, there were more new listings added over the summer months than new listings added during the peak season months. Broker analysts were quick to point out that some of the new listings added during the summer were likely listings that had been pulled off the market during the Great Lockdown, which occurred in April and May.
"Increased buyer demand is helping to move some of our old inventory," said Adam Vellano, West Coast Sales Manager, BEX Realty - Florida. This increased buyer demand is illustrated by the number of days on the market in August, which decreased 5.9 percent to 96 days compared to 102 days in August 2019. The report also showed the Naples area has only 184 single-family homes under $300,000 available to buyers. And inventory for single-family homes between $300,000 and $500,000 decreased 54.9 percent in August to 446 single-family homes from 990 single-family homes in August 2019.
Vellano remarked that "incentives offered by new home builders after the lockdown restrictions were lifted are starting to go away and these new home prices are also increasing."
Phil Wood, President & CEO of John R. Wood Properties, added that "Eighty-one percent [793] of the total price changes reported in August [970] were decreases in price. But, there were fewer price decreases in August than in June or July. These price decreases indicate that some homeowners might have overpriced their homes when they initially listed them and the adjustments in August now reflect more competitive prices. That's not to say that these homeowners won't see prices increase again as agents report many multiple offer situations occurring across all price categories."
Overall median closed prices in August increased 26.7 percent to $399,000 from $315,000 in August 2019. Single-family home median prices increased 15.7 percent to $457,000 from $395,000 in August 2019, and condominium median closed prices increased 18.4 percent in August to $290,000 from $245,000 in August 2019.
However, keep in mind that the median closed price is a figure that is "in the middle," as half of homes listed are above this price and exactly half are below this price. Broker analysts reviewing the report were quick to point out that sales of several high-worth properties (e.g., $2 million+) during a given month can greatly influence this figure, and that it doesn't mean all home prices increased. As such, when evaluating pricing trends, brokers prefer to use the 12-month ending median closed price statistics. For the 12-months ending August 2020, the median closed price increased 5.4 percent. Interestingly, using this metric, the August report showed median closed prices for homes between $300,000 and $2 million have actually decreased.
"I think we've turned a corner and can safely say that we are now in a seller's market," said Bill Coffey, Broker Manager of Amerivest Realty Naples. "We have 4.8 months of inventory and median closed prices are on the rise." Florida Realtors® considers the benchmark for a balanced market (favoring neither buyer nor seller) is 5.5 months of inventory.
According to Vellano, "buyers seeking single-family homes were on the rise this summer because of changing lifestyle preferences caused by the pandemic. Plus, those who now work from home or have children that attend school from their homes want more space. Once we have a better understanding of how to medically treat people with coronavirus and have a vaccine for it, I think people will begin to explore condominium living again."
The August report confirms Vellano's statement, as sales of properties priced above $2 million increased the most (18 percent) compared to other price categories tracked in August.
"This is a great time for high-end buyers to invest in real estate," said Wood. "Because interest rates are low, a 50 percent deposit on a $2 million home means loan payments could be as low as $4,200 a month!"
Geographically, closed sales of properties in the Naples Beach area (34102, 34103, 34108) during August increased 84.4 percent and saw an 82 percent increase in median closed price; the South Naples area (34112, 34113) reported the most new listings in August, with a 32.7 percent increase; and the East Naples area (34114, 34117, 34120, 34137) reported the biggest drop in months of inventory to 2.9 months of inventory in August from 6.4 months of inventory in August 2019. The August report shows sellers are at an advantage with decreasing inventory and rising prices. 
SOURCE: NABOR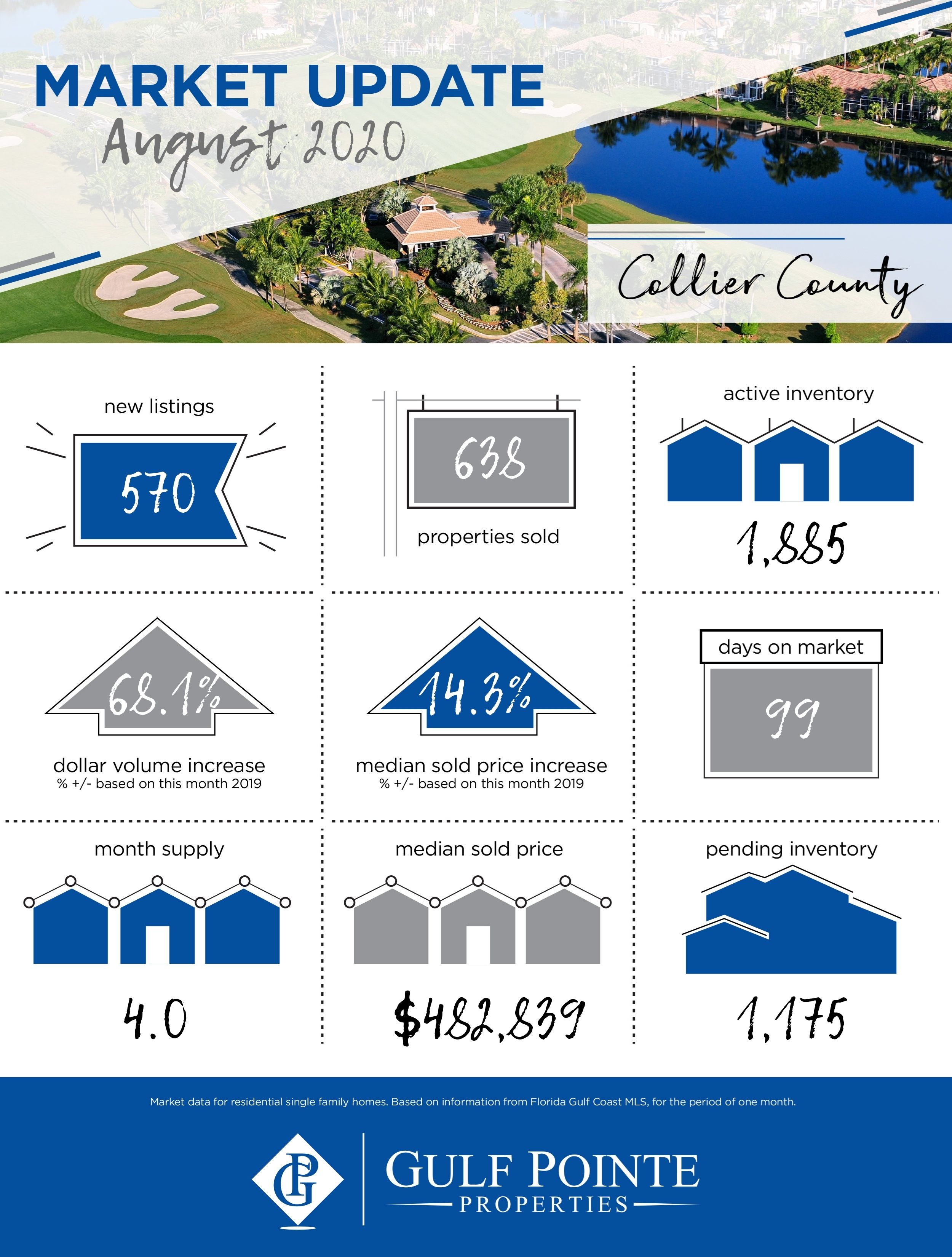 Get Top Dollar for Your Home
With Our 100 Point Marketing Plan!
Learn how we will get your home:
In front of and shown to more buyers
Sold faster and for more money
Sold on your terms without the hassle and stress
Real Estate Resource Center
Real Estate Reports for Home Owners, Sellers & Buyers!
Reviews
Brad Dohack and his entire team are absolute professionals. He is extremely communicative and his expertise in a constantly changing market is in a class of its own. Brad and his Transaction...
Read more

04/20/2022 - roadie4747
Brad and his team are absolutely the best! From start to finish the service they give you is second to none. I particularly loved their attention to detail in every little facet of the process. I...
Read more

02/07/2022 - pault94
I can't say enough good things about the Brad Dohack team! Our house languished under the representation of another realtor, but as soon as Brad took over we were entertaining multiple...
Read more

06/02/2021 - human001
Brad and his team are the best. Brad was a pleasure to work with. He was always available for questions and his advice was spot on. He got us a great price for our home . The whole experience was...
Read more

05/03/2021 - zuser20150608081608132
Brad was very helpful in helping us find, build and close on our dream Florida home! We did the whole process long distance and Brad amd his team provided us with FaceTime, pictures and all the...
Read more

03/29/2021 - ktrek68
My husband and I would highly recommend Brad, and his team to help with your reality needs. The selling of our home was smooth and easy because of Brad's expertise and his professionalism. We are...
Read more

03/27/2021 - KrissyLeigh7
View more reviews
View More Listings
Click the property below to view the virtual tour of each listing.