Schedule a Tour
Choose your date. It's free cancel anytime.
Local Real Estate Sales Figures Show Improved Results in June
• Amid COVID-19 pandemic, year-over-year sales were down slightly for single-family and townhouse/condominium properties versus June 2019.
July 22, 2020. FORT MYERS, Fla. – Lee County's housing market saw a slight decrease in closings in both the single-family and townhouse/condominium categories in June compared to the same period a year ago. This is typical in our market area in summer months, when sales activity tends to be lower. Closings in the single-family category were up in June 2020 (1,241) compared May 2020 (924). Year-over-year, sales were down by 1.3% for single-family and 12.8% for townhouses and condominiums, according to figures just released by Florida Realtors®, an umbrella organization for Realtor® groups throughout the state.
June showed a median sale price increase of 5.3% for single-family and 0.6% in the townhouse/condominium category. This shows stability in the pricing segments. Inventory is significantly down for both. Year-over-year, local inventory of single-family dwellings is down again this month at 28.7% as shown in active listings. A 3.6-month supply of inventory shows the market is in a sellers' market. More listings are seeing multiple contracts of offers.
In the townhouse/condominium category, listings were down 15.0% versus June 2019. That translates to a five-month supply and shows a more balanced condo market.
Time spent on the market in June was about the same as June 2019 — 78 days for single-family homes and 81 days for townhouses and condominiums. June 2019 showed 71 days for single-family and 75 days for townhouses and condominiums.
Broken down by city, Estero saw a 30.9% increase in single-family dwellings over last year. Sanibel/Captiva followed with an 11.1% increase. Pine Island saw a large loss at 53.8% decrease compared to last year.
When looking at closed sales by price point, all single-family homes the difference was mixed with the biggest increase in price for Pine Island.
SOURCE: Royal Palm Coast Realtor Association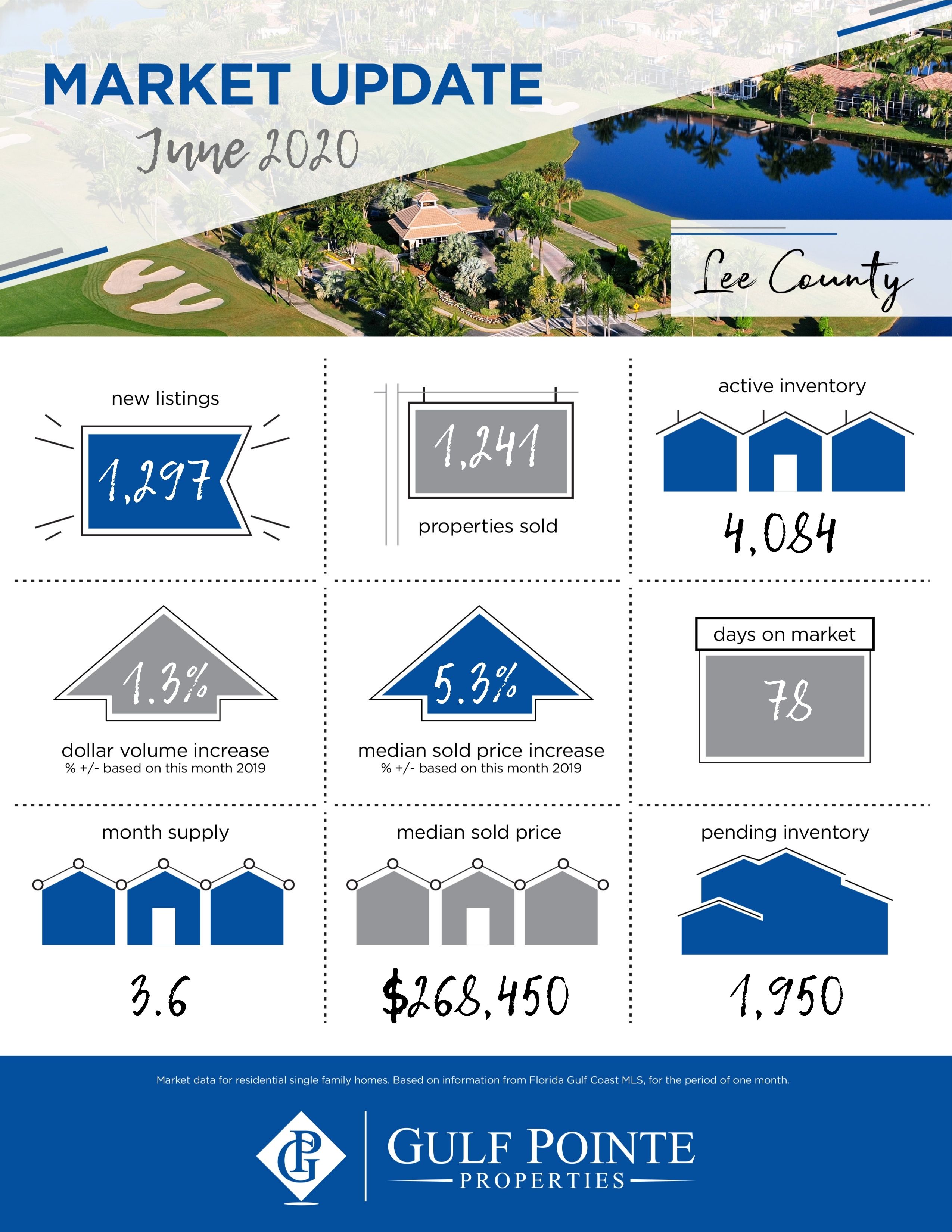 June Market Activity Sets the Stage for Strong Summer Sales
Naples, Fla. (July 24, 2020) – According to the June 2020 Market Report released by the Naples Area Board of REALTORS® (NABOR®), which tracks home listings and sales within Collier County (excluding Marco Island), pending sales (homes under contract) increased 61.3 percent compared to June 2019, with single-family homes being the home choice for a majority of buyers. Broker analysts reviewing the report also noted that new listings during June increased 25.8 percent compared to June 2019, which indicates growing consumer confidence for both sellers and buyers leading into the summer Naples real estate market.
The everlasting desirability of the Naples real estate market was undeniable in June, especially in the singlefamily home market where pending sales increased 83.9 percent to 835 pending sales from 454 pending sales in June 2019. Pending sales of condominiums during June increased 38.7 percent to 634 pending sales from 457 pending sales in June 2019.
"The Naples residential market is showing signs of rebounding after a temporary pause in activity caused by the pandemic during the latter part of March, and through April and May," said Budge Huskey, CEO, Premier Sotheby's International Realty. "Naples seems to be the beneficiary of a migration of people making life changes and coming to our market. Contributing factors are our low density and coastal properties."
While closed sales in May were down nearly 50 percent compared to May 2019, closed sales in June decreased only 4.6 percent to 881 closed sales from 923 closed sales in June 2019. However, according to Brenda Fioretti, Managing Broker with Berkshire Hathaway Home Services Florida Realty, "June had the third highest number of showings this year, behind the historically high showing months of January and February. In comparison, there were 36,912 showings in June compared to 42,299 showings in January and 44,137 showings in February."
Before the pandemic, the number of closed sales of single-family homes and condominiums were about equal each month; but the June Market Report revealed a shift in buyer preference to single family homes compared to June 2019, as closed sales of single-family homes increased 2.9 percent to 498, while closed sales in the condominium market decreased 12.8 percent to 383. This trend could be attributed to buyers wanting a larger home with more space to accommodate working from and sheltering at home.
Inventory decreased 27.6 percent to 4,739 homes in June from 6,547 homes in June 2019. The majority of this depletion was reported in the single-family home market, which decreased 34.5 percent, while the condominium market had a decrease in inventory of 20.3 percent. The report also showed the largest drop in inventory occurred in the $300,000 to $500,000 single family home market, which decreased 47.7 percent in June compared to June 2019.
As a result of heightened buyer demand, the median closed price increased 8.2 percent to $357,000 in June from $330,000 in June 2019. Bill Coffey, Broker Manager of Amerivest Realty Naples, remarked, "The overall median closed price increased in June because the luxury market is hot this summer, and the level of demand is driving up the prices, particularly in the $1 million and above market."
Coffey's comment was validated by other brokers reviewing the report including Huskey and Phil Wood, President & CEO of John R. Wood Properties, who both claimed their offices saw multiple offer situations in the luxury market during June. Fioretti added that her agents reported multiple offers in every price point during June.
Wood added that closed sales for the year are not yet on track with last year's activity due to the pandemic, yet he's optimistic because "as of June, the number of closed sales were only 400 less than last year at this time." He added, "When the stock market dropped at the beginning of the pandemic, high-end buyers hit pause. But the stock market is strong today and these buyers – who we typically only see during high season – are seeking to buy luxury properties in Naples this summer."
Despite a decrease in overall inventory for June, the report showed geographic areas where new listings grew including the Naples Beach area (34102, 34013, 34018), which added 260 new properties to its inventory compared to 159 new property listings added during June 2019. But supply is simply not keeping up with demand as overall inventory for the Naples Beach area decreased 16.1 percent.
The market data indicates that now is a good time to sell, as the number of showings and pending sales are increasing, and prices are also rising!
SOURCE: NABOR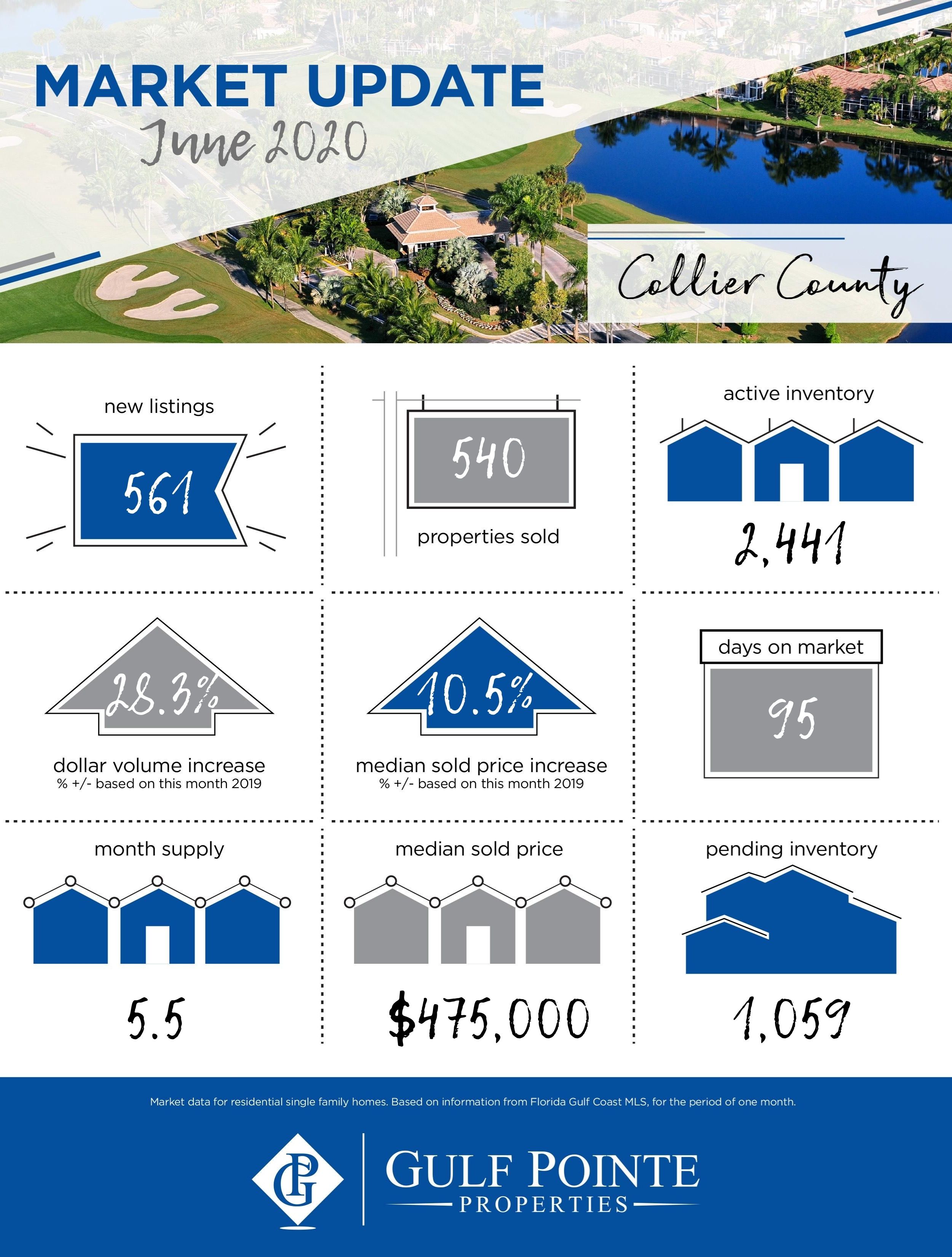 Get Top Dollar for Your Home
With Our 100 Point Marketing Plan!
Learn how we will get your home:
In front of and shown to more buyers
Sold faster and for more money
Sold on your terms without the hassle and stress
Real Estate Resource Center
Real Estate Reports for Home Owners, Sellers & Buyers!
Reviews
Brad Dohack and his entire team are absolute professionals. He is extremely communicative and his expertise in a constantly changing market is in a class of its own. Brad and his Transaction...
Read more

04/20/2022 - roadie4747
Brad and his team are absolutely the best! From start to finish the service they give you is second to none. I particularly loved their attention to detail in every little facet of the process. I...
Read more

02/07/2022 - pault94
I can't say enough good things about the Brad Dohack team! Our house languished under the representation of another realtor, but as soon as Brad took over we were entertaining multiple...
Read more

06/02/2021 - human001
Brad and his team are the best. Brad was a pleasure to work with. He was always available for questions and his advice was spot on. He got us a great price for our home . The whole experience was...
Read more

05/03/2021 - zuser20150608081608132
Brad was very helpful in helping us find, build and close on our dream Florida home! We did the whole process long distance and Brad amd his team provided us with FaceTime, pictures and all the...
Read more

03/29/2021 - ktrek68
My husband and I would highly recommend Brad, and his team to help with your reality needs. The selling of our home was smooth and easy because of Brad's expertise and his professionalism. We are...
Read more

03/27/2021 - KrissyLeigh7
View more reviews
View More Listings
Click the property below to view the virtual tour of each listing.