Schedule a Tour
Choose your date. It's free cancel anytime.
Closed Sales Up Double Digits Again for January!
(Fort Myers, FL –February 21, 2020) – Lee County's housing market saw a double digit increase in both Single Family and Townhouse and Condos for closed sales compared to January 2019, according to the latest statistics just released by Florida Realtors®. Year-over-year, sales were up by 25.37% for Single Family and a 15.9% change for Townhouse and Condos.
January also showed a Median Sale price increase at 2.1% for Single Family, and 8.2% for Townhouse and Condos. Inventory is down for both. Year-over year, Single Family is at -22.3% in Active Listings, showing a 4.7 Months Supply of Inventory. Townhouses and Condos is at -24.4% in Active Listings, showing a 5.3 Months Supply of Inventory, year-over-year. The time properties spent on the market in January, was 58 Days for Single Family Homes and 64 days for Townhouses and Condos.
Broken down by cities, Single Family in Fort Myers Beach saw the largest increase with a jump up in sales of 260% over last year, with 18 closed sales compared to 5 in January 2019. Sanibel/Captiva also saw a nice increase of 90% for Single Family Homes sold with 19 closed sales. Fort Myers also posted a 40.8% increase in Single Family compared to last year. Bonita Springs is the only city that posted a decrease of -13.6%.
When looking at Closed Sales by Price Point, most price points were up. The $50,000-$149,999 price point is the only range that showed a decrease. The strongest increase came at the $600,000-$999,999 price point with 84.2%.
SOURCE: Royal Palm Coast Realtor Association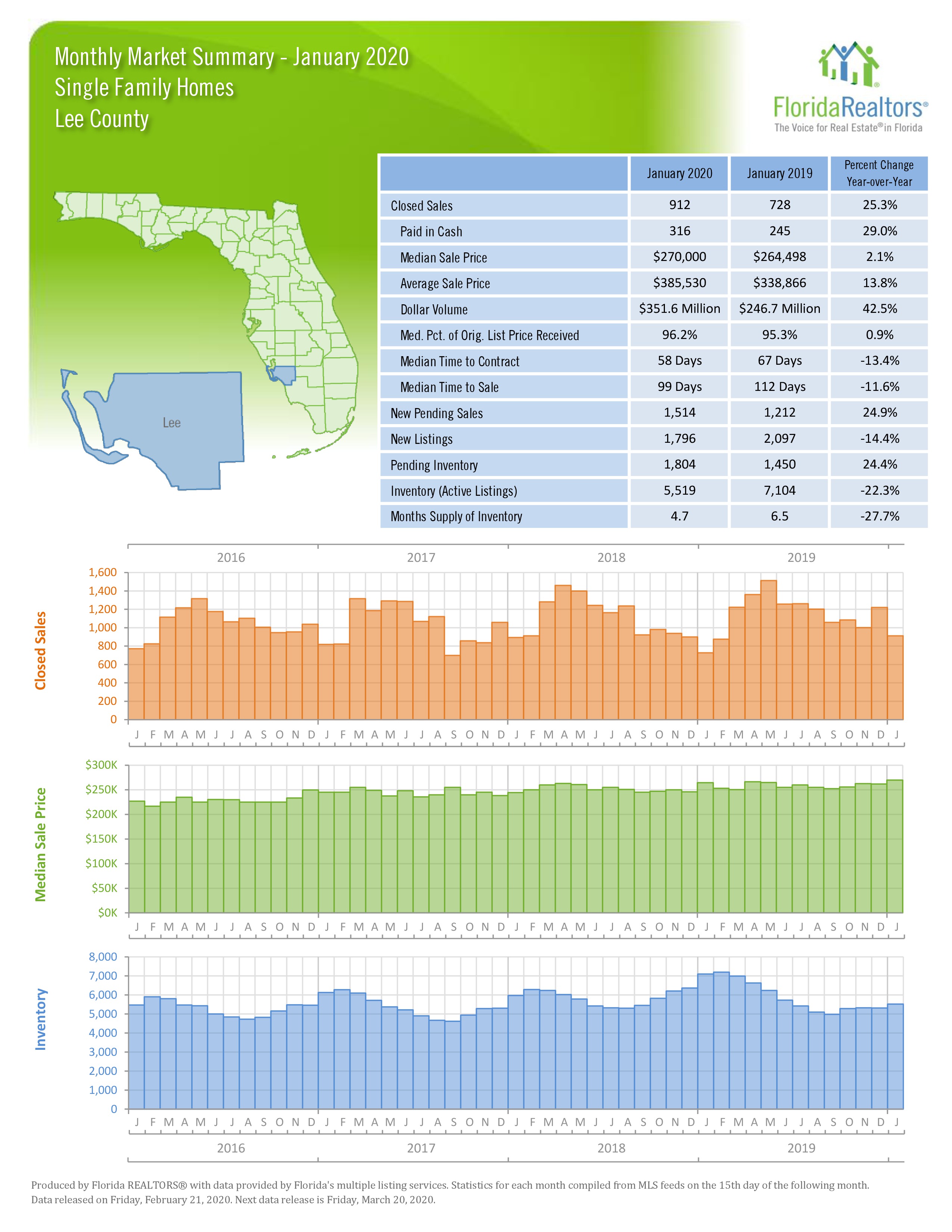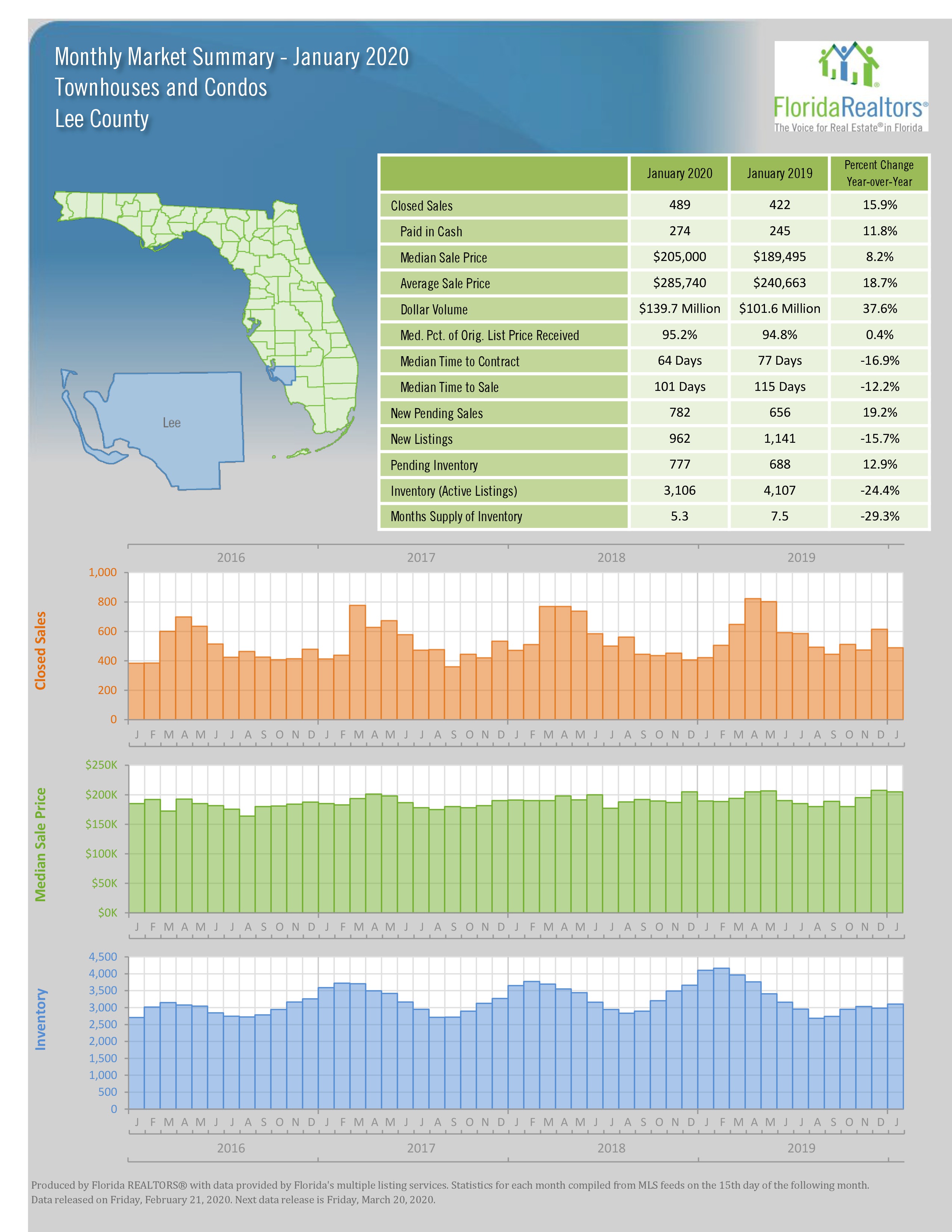 Luxury Home Buyers are Back! January Home Sales Set the Stage for Solid 1st Quarter
Naples, Fla. (February 21, 2020) – Despite a tug on inventory that resulted in a 26 percent decrease to 5,761 properties in January 2020 compared to 7,773 properties in January 2019, overall closed sales in Collier County rallied in January, especially in the luxury market. A 22 percent increase in January's overall closed sales has many broker analysts optimistic that continued strong sales activity can be expected through the first quarter.
Aside from the 26 percent decrease in January's month-end inventory compared to January 2019, we actually gained 360 more listings in January than what was available to buyers in December. Collier County has a 6.6- month supply of homes, which is much higher than many other hot markets in Florida. A recent Realtor.com analysis showed that other areas in Florida also experienced double-digit decreases in active listings for January including Tampa/St. Pete (20.2 percent decrease), Orlando (15.8 percent decrease), and Miami/Ft. Lauderdale/West Palm Beach (11.2 percent decrease).
"Unlike the first quarter of 2019, home buyers should move quickly, as time is not your friend this quarter," said Mike Hughes, Vice President and General Manager for Downing-Frye Realty, Inc., "especially those in the high-end home market." Hughes was referring to buyers interested in the $1 million to $2 million single-family home market in Collier County, which saw a 20 percent increase in closed sales year-over-year ending January 2020. According to the January 2020 Market Report released by the Naples Area Board of REALTORS® (NABOR®), which tracks home listings and sales within Collier County (excluding Marco Island), there are currently 354 single-family homes on the market in this price category.
"A year ago, many economists were predicting a recession by the end of 2019, but they've since changed their tune and the affluent buyer is listening," said Budge Huskey, President, Premier Sotheby's International Realty. "It looks like many buyers are rebalancing their portfolios and pulling money out of the stock market to buy homes because they fear they won't make the same returns as last year. The stock market inertia has reignited the luxury markets. Purchasing power is bringing back home buyers to the Naples area luxury home market. In essence, they believe now is the time to buy a luxury home in Naples."
NABOR Board President Lauren U. Melo, PA, a Licensed Real Estate Broker with Florida's Realty Specialists, agreed with Hughes and Huskey, adding that the report indicated that "showings of single-family homes in the $1 million to $2 million price category increased 109 percent in January 2020 compared to January 2019!"
For perspective and as noted by Spencer E. Haynes, Director of Business Development and Broker with John R. Wood Properties, "Seasonal visitors arrived earlier and spent more time during the 2019 holiday season looking for homes to purchase than in the previous holiday season." This was demonstrated in the November and December 2019 Market Reports, which showed a 27 percent and 21 percent increase in pending sales, respectively.
Median closed prices increased 5.5 percent in January to $343,000 compared to $325,000 in January 2019. But this is still much lower than the median closed price reported in January 2018, which was $375,000. Interestingly, median closed prices for the 12-months ending January 2020 actually fell in all price categories except for the $2 million and above, which increased 6.1 percent.
Adam Vellano, West Coast Sales Manager, BEX Realty - Florida, noted that the report showed 1,885 price decreases in January, which he believes is "mostly old inventory that is finally coming to the buyer as a result of appealing price reductions."
Responding to Vellano's comments, Jeff Jones, Broker at Keller Williams Naples, added that "January's price reductions represented 33 percent of active listings in January [5,761 properties], which is much higher than the 25 to 28 percent shown in the Market Reports over the last few months."
Geographically, Melo was surprised to see that the median closed price for homes in the 34120 zip code was flat and remained at $300,000, the same as January 2019, as this is an area where a majority of new construction is taking place. Other areas with sales activity that stood out in January were Naples Beach, which had a 57.1 percent increase in closed sales of condominiums; South Naples had a 7.1 percent decrease in closed sales of single-family homes; and North Naples had a 2.3 percent decrease in median closed prices for single-family homes.
SOURCE: NABOR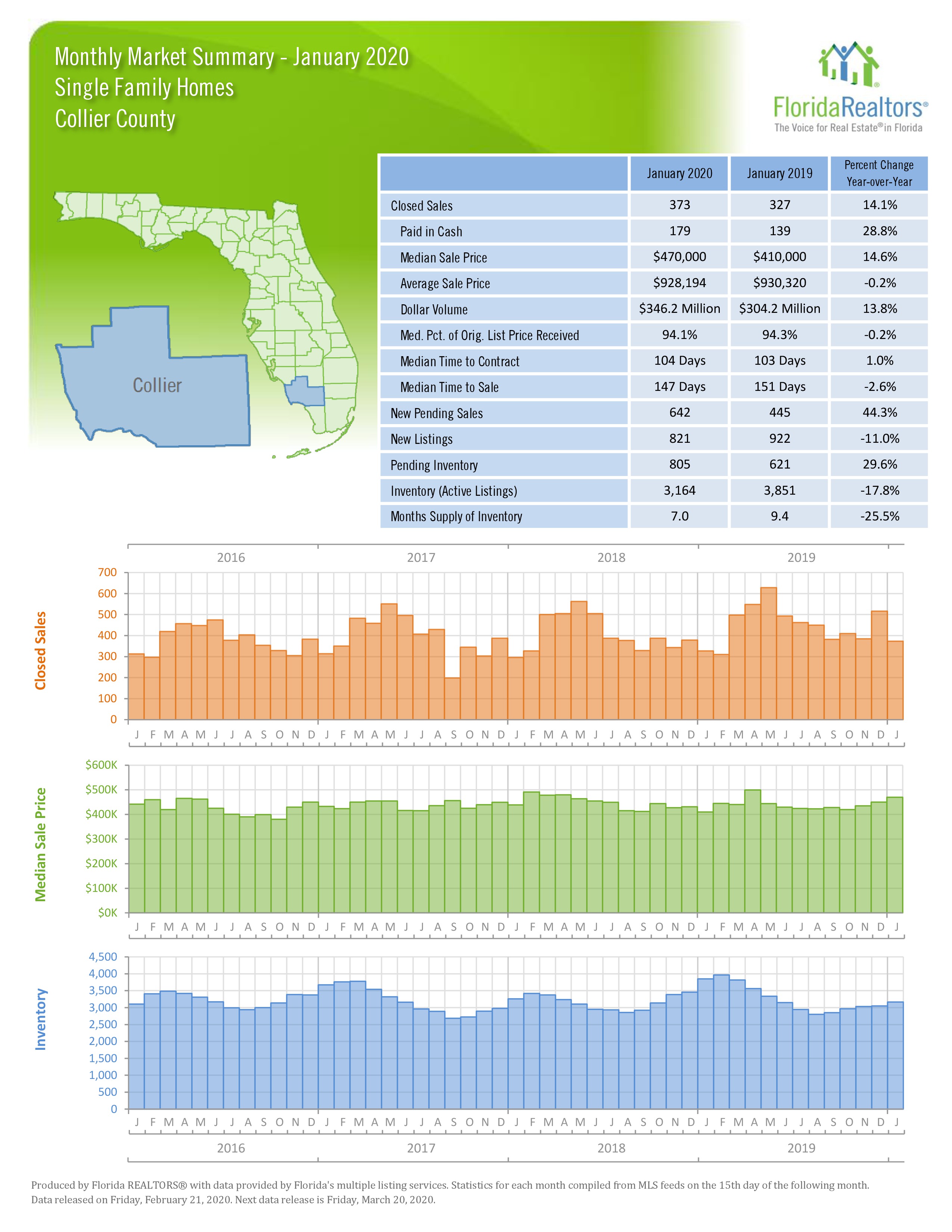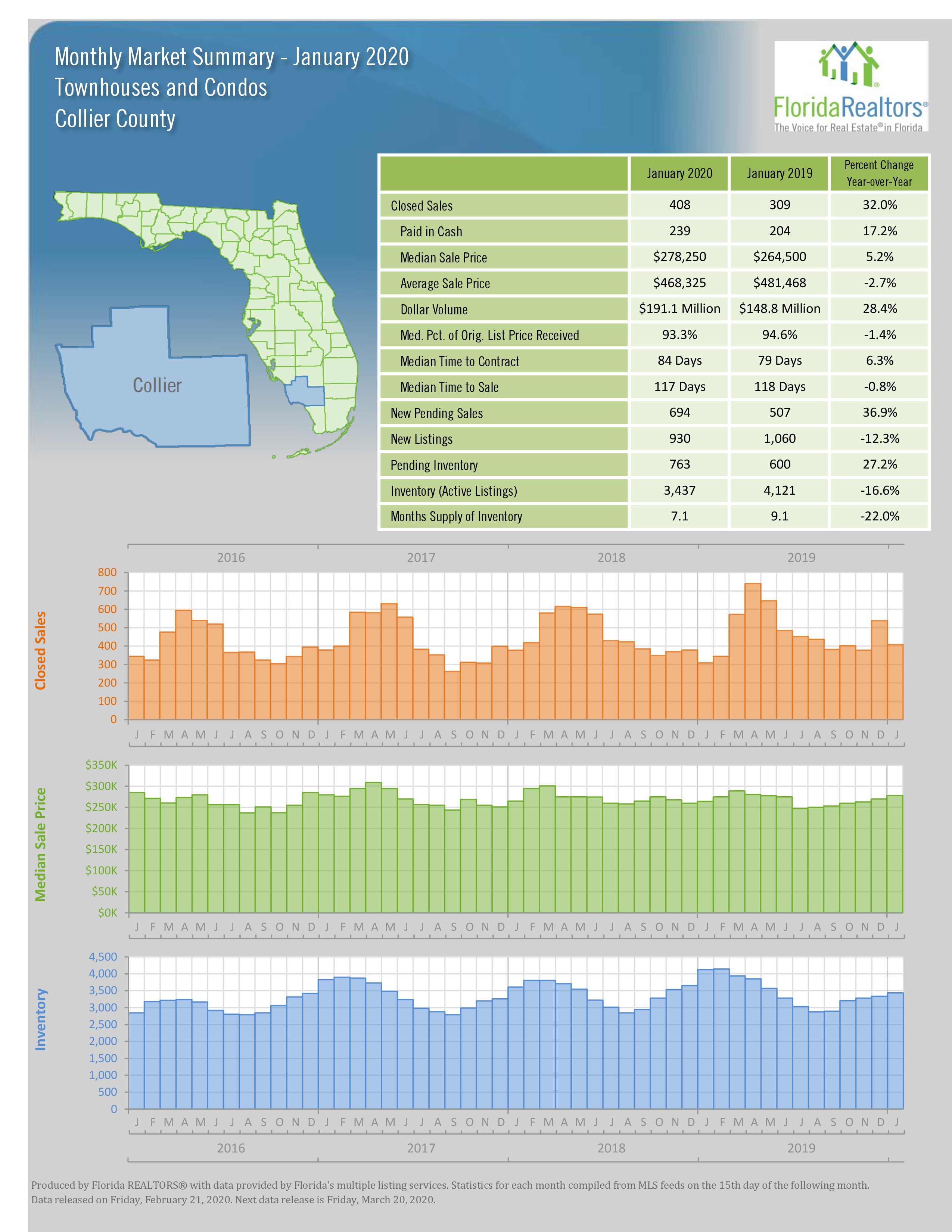 Real Estate Resource Center
Real Estate Reports for Home Owners, Sellers & Buyers!
Reviews
Highly likely to recommend

Brad Dohack and his entire team are absolute professionals. He is extremely communicative and his expertise in a constantly changing market is in a class of its own. Brad and his Transaction Coordinator, Anna Udrescu was exceptionally responsive to my questions and follow up throughout the entire process. Brad made arrangements for a professional photographer to take phenomenal photos of our home. We feel that the pricing strategy developed by Brad along with amazing photography is what resulted in an unbelievable amount of interest in our home. Our home was under written contract within 4 days of the first showing and the final sale price exceeded our expectations. I highly recommend Brad Dohack and his team to anyone looking to buy or sell a home, every team member is sensational. Read more

2022-04-20 - roadie4747
Highly likely to recommend

Brad and his team are absolutely the best! From start to finish the service they give you is second to none. I particularly loved their attention to detail in every little facet of the process. I would highly recommend them! Read more

2022-02-07 - pault94
Highly likely to recommend

I can't say enough good things about the Brad Dohack team! Our house languished under the representation of another realtor, but as soon as Brad took over we were entertaining multiple over-asking-price offers. A few weeks later we were closed, cash in hand. The courtesy and professional Brad and his team exhibited exceeded my every expectation. There is not a realtor / broker that I could recommend any higher. I look forward to doing business with The Brad Dohack Team again soon. Read more

2021-06-02 - human001
Highly likely to recommend

Brad and his team are the best. Brad was a pleasure to work with. He was always available for questions and his advice was spot on. He got us a great price for our home . The whole experience was seamless. You can't do better then Brad and his team. Read more

2021-05-03 - zuser20150608081608132
Highly likely to recommend

Brad was very helpful in helping us find, build and close on our dream Florida home! We did the whole process long distance and Brad amd his team provided us with FaceTime, pictures and all the important information. They made the whole experience so easy and enjoyable! I highly recommend Brad for any reality need! Read more

2021-03-29 - ktrek68
Highly likely to recommend

My husband and I would highly recommend Brad, and his team to help with your reality needs. The selling of our home was smooth and easy because of Brad's expertise and his professionalism. We are currently in the process of purchasing our new home with Samantha, which has also been a positive experience. They answered our calls and emails promptly to give us answers to any questions we had. We feel both Brad and Samantha have been so trustworthy and put our needs as a priority. They have guided us through step of the way. I would highly recommend Brad and his team. Read more

2021-03-27 - KrissyLeigh7

View More Listings
Click the property below to view the virtual tour of each listing.